There's a wide range of kitchen styles to consider if you're remodeling your room, but if you want to know what kind of kitchen never goes out of style, you'd do well to consider a Shaker style kitchen.
Shaker kitchen ideas are a major kitchen feature, and well-made classic kitchen cabinets will be a part of your home for a very long time. Immediately recognized for their timeless, simple designs with simple paneled doors and an abundance of natural materials, Shaker kitchens are ubiquitous in homes around the world.
What type of kitchen never goes out of style?
Shaker kitchens are known for their unassuming cabinetry, with clean lines and a simple recessed panel, which provide the perfect backdrop to define your kitchen's style. However, the beauty and longevity of Shaker cabinets was not just superficial. Since they believed that God could see everything, even the back of a closet should be as beautiful as the front. To reflect this craftsmanship, use solid wood kitchen cabinets constructed with strong dovetail joints for rooms that exude the Shaker ethos.
"A hand-painted kitchen works especially well for its timeless appeal and because it's so useful to be able to repaint it from time to time to create a different look and feel," says Tiffany Duggan, founder of Studio Duggan. (opens in a new tab). "I've seen classic 20 year old Shaker kitchens that have been repainted and look amazing. With a contemporary flush kitchen (flat front), ask yourself if you see yourself liking it in the future. Considering its cost, the cabinetry is usually the only thing you don't want to change in a hurry, while you can always repaint the walls or replace the backsplash if you want.
"When our studio opened in 2011, the kitchens all seemed neutral in color, whether classic or contemporary. We are now seeing more demand for kitchens with color, pattern and personality, which is probably another reason why the Shaker style is so popular. It is easily personalized: the inside of a glazed piece of furniture can be painted in one color, the frames in another, or the handles changed at will. I also recommend adding an antique porcelain cupboard or sideboard to the room, so the built-in cabinetry doesn't look too "samey".
Are Shaker kitchens outdated?
While Shaker kitchens date back to 1774, when Shakers who arrived in America from England, created the style out of necessity for utility and practicality in relation to kitchen trends, the Shaker kitchen style n never went out of fashion, even today. This desire is reflected in many kitchen designs we see today: where every element of the room should be beautiful and functional in equal measure. Shaker kitchens are one of the most versatile designs, suitable for any home style, from modern apartments to cottages.
With nature at its heart, your Shaker kitchen celebrates the raw materials that were used to build your home, so showcase the beams and exposed stonework in the ceiling. These elements can then be combined with other natural finishes, such as stone flooring, which is a beautiful complement to a Shaker kitchen, and is also very practical.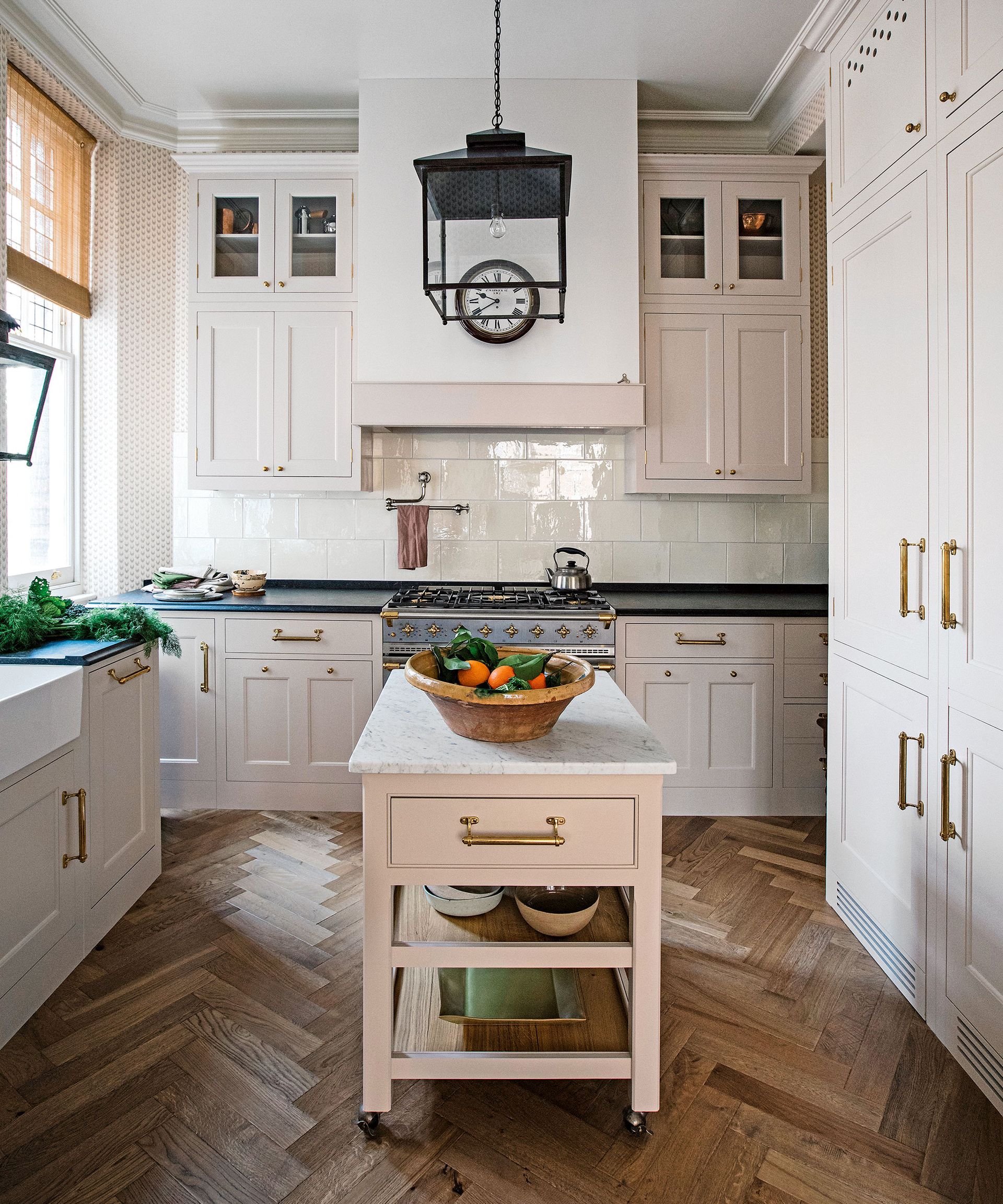 How to make a Shaker kitchen modern?
Unpainted cabinets may have fallen out of favor in recent years, but they can bring warmth and character to a space that might otherwise feel cold and clinical. However, be careful not to overwhelm the space with wooden finishes – consider adding painted kitchen units and contrasting tones and textures to give the kitchen a modern look.
'Consider ways to bring interest to the Shaker kitchen with lighting, knobs and kitchen counters. This way, you'll still have some personality in your space, but stay true to the essence of the Shaker aesthetic of clean lines and flat surfaces," says Georgia Zikas, Founder of Georgia Zikas Design. (opens in a new tab).
How to choose a kitchen style?
"Start by thinking about the style and vibe you want your kitchen to have," says Tiffany Duggan. "Think about how this might tie into not just the living and dining areas, especially if it's part of an open space, but how it also fits into your overall plan for the home. Gather pictures of kitchens that inspire you and start refining your ideas, thinking about how they might suit your space, millwork elsewhere in your home, and the period of your property.