If you've ever wondered 'where should a sink be in a kitchen?' then you will be aware of the delicate task of finding the perfect placement.
Kitchen sink ideas are easily overlooked in favor of more glamorous fittings, but this hardworking kitchen design element is more than practical, and the placement of this kitchen workhorse is of the utmost importance.
If you're designing a kitchen from start to finish or planning a kitchen remodel, you'll have endless options for a great layout. However, if you are simply reconfiguring the wet area, it may make more sense to change the plumbing.
If you have an existing kitchen with very little room for large reconfigurations, you may have more limited options in terms of sink placement. A common decision is to keep the existing plumbing where it is, as this keeps costs down.
Where should a sink be in a kitchen?
The location of a sink in a kitchen is important for many reasons. While a sink might not be your first thought when planning a kitchen layout, you'll be amazed at how well you use this unassuming workhorse.
First, think about how you are going to use the sink. Is it just for filling pots and washing dishes or are you a keen gardener who can harvest muddy vegetables? "The sink should meet all your daily needs, as well as the look you would like it to have, so placement is of fundamental importance," says Annie Tullett, interior designer, Neptune (opens in a new tab).
Ben Burbidge, Managing Director, Kitchen Makers (opens in a new tab) agrees: "Consider how often you entertain or cook for a crowd and whether others like to help with the preparation. "The location of the sink should reflect the size and shape of your kitchen as well as your aesthetic and lifestyle."
1. Think plumbing first
Heating pipes and drainage may sound boring, but your plumber can't start work without a detailed plan. The position of your sink and dishwasher is largely dictated by how close you are to your main drain outlet – and a big reason why they're usually placed on an outside wall. It is possible to place them more centrally (in an island), but the slope of the pipes will have to be steeper, which can lead to digging work and additional expense.
You must ensure that it is possible to connect to existing drain positions, which can sometimes be difficult to move. Consider the drain route of the sink, dishwasher and washing machine and make sure they are not placed too far from the ground and any vent pipes or external washout points .
Traditionally, the sink was installed under a window to provide a view when washing dishes, but if you prefer to let a dishwasher take over, save the view for a place where you will linger longer, such as the prep area. main or breakfast bar. To make using the sink comfortable, don't place it too tightly in a corner and keep the area above it free of cabinets.
However, if you're undertaking a low-cost kitchen remodel, consider reusing as much of your existing plumbing as possible. If your kitchen layout is really dysfunctional, this may not be an option.
2. Give yourself a view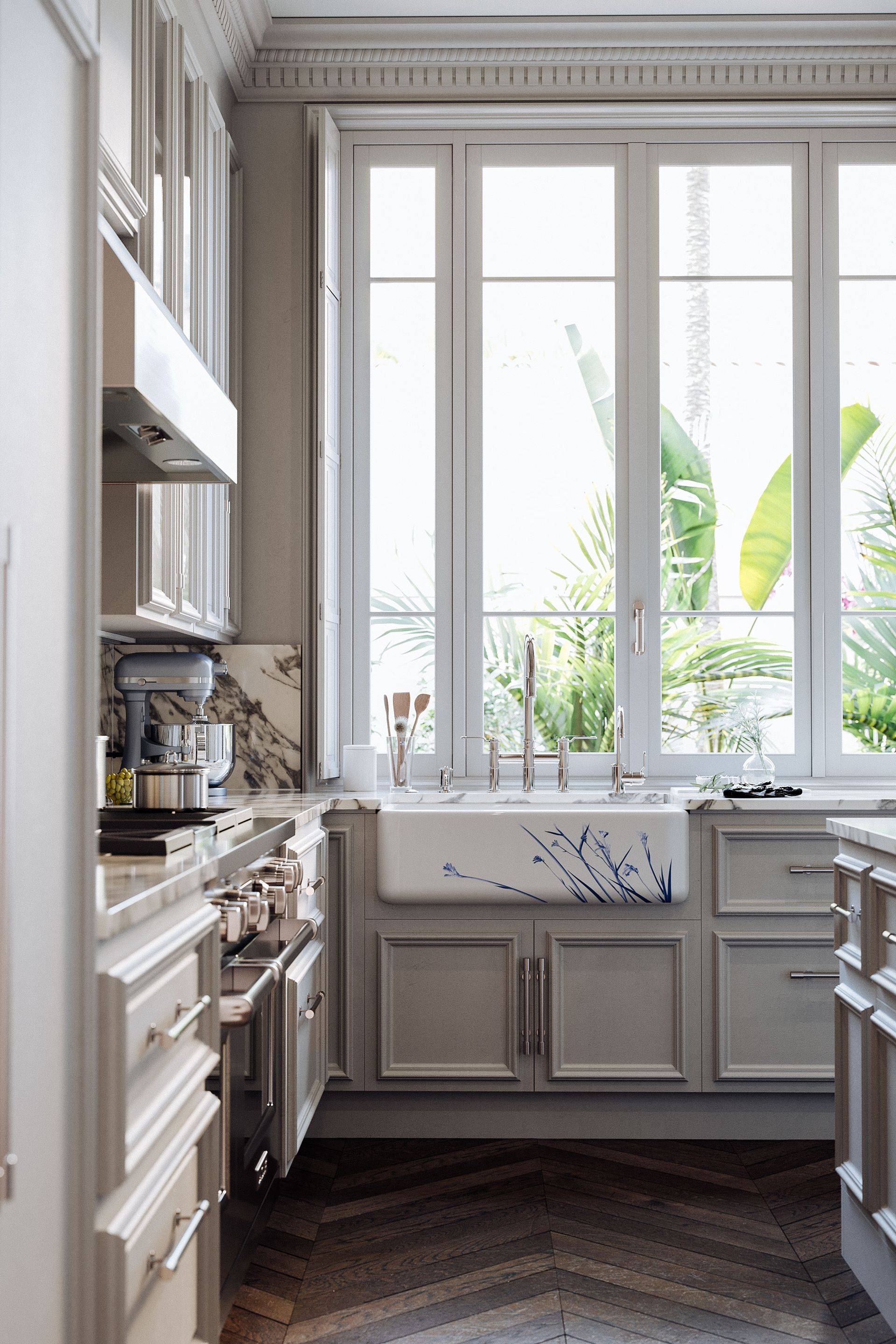 Creating a calm atmosphere is more important than ever, and it should be your goal when placing a sink in a kitchen. If you're lucky enough to have a kitchen that overlooks a beautiful view, consider angling your sink to take advantage of the pleasant view beyond.
3. Consider lighting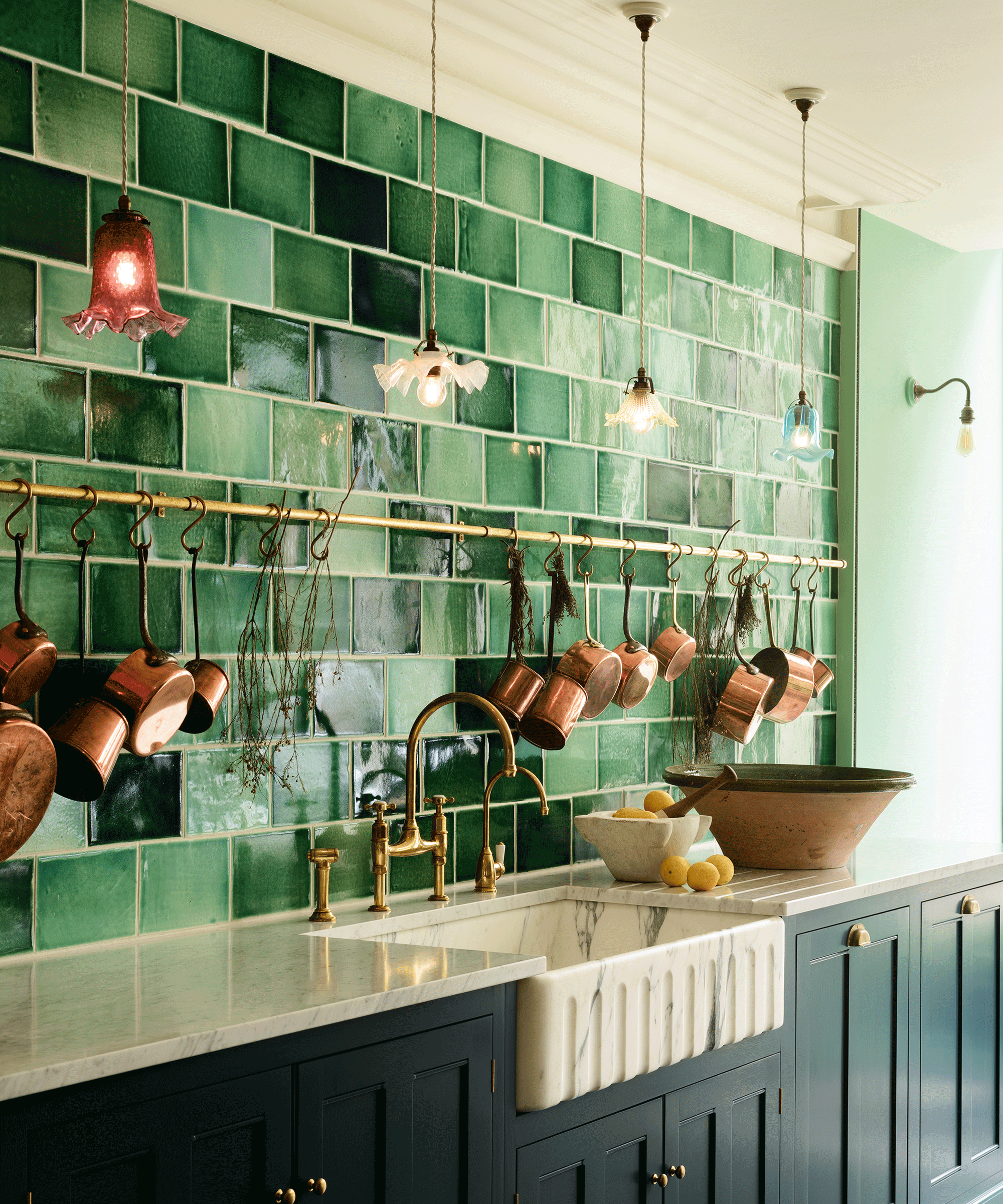 It's no secret that the best kitchen ideas incorporate lots of natural light, and that's especially true around the sink. Natural light from windows or skylights above a sink is great during the day, but be sure to provide additional light above and around a sink at night. Skylights and glass walls provide stunning natural light and great views during the day, but they can turn into black holes at night.
Kitchens should generally include task, mood and feature lighting. Task lighting is the most practical and covers work areas such as the prep area, cooking area and sink; Mood lighting creates different atmospheres, and feature lighting is eye-catching and can just introduce a bit of character.
4. Place a sink near a dishwasher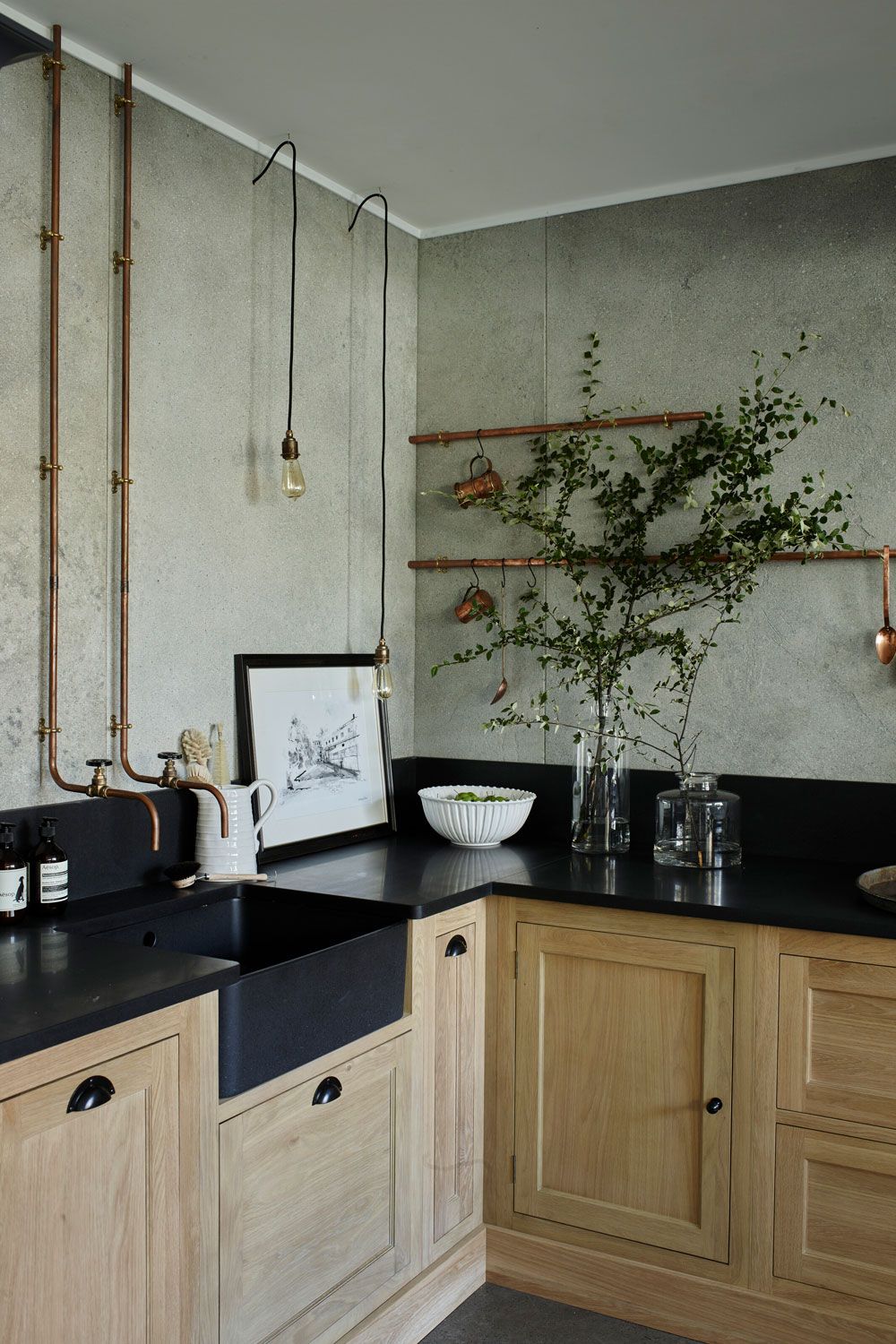 This one might seem like a no-brainer, but you'd be surprised how often people forget that the dishwasher is closer to the kitchen sink. You definitely want your dishwasher and sink side by side. This will make loading the dishwasher easier and more efficient; you can simply scrape or rinse your plates in the sink before putting them in the dishwasher.
5. Don't turn your back on guests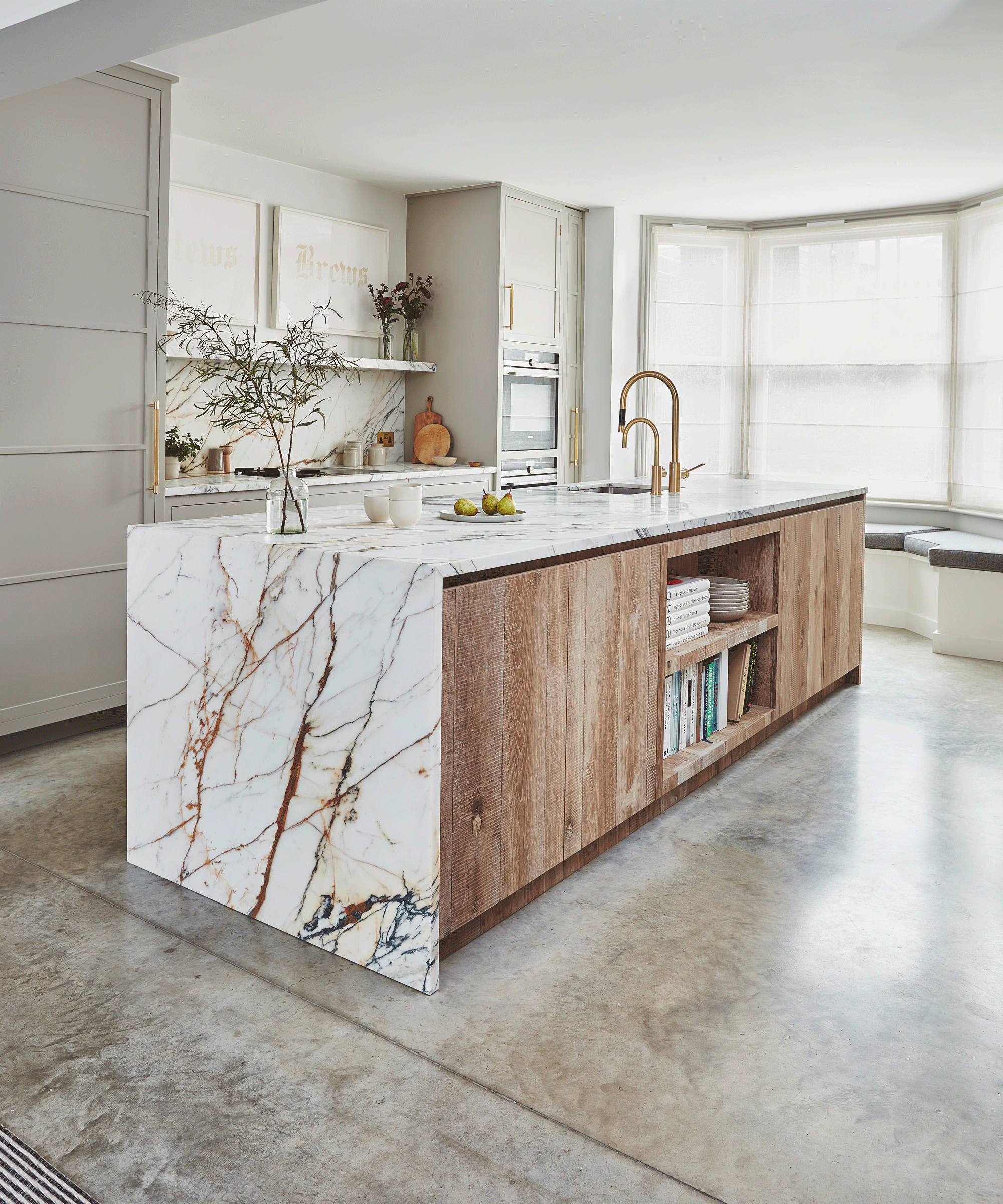 If you regularly use your kitchen for entertaining, you don't want to turn your back on your guests if you don't have to. It's the ideal kitchen layout idea for those who love to entertain: it will allow you to prep, cook and carry on conversations long after dinner – or keep an eye on the children while they do their homework. .
For those who want to see family and friends while they do the dishes, but don't necessarily want the kitchen mess on full display, there are many effective ways to design the sink area to pull the best of both worlds.
A tubed opening or raised counter above the sink can act as a visual barrier to conceal any clutter in or around the sink. It provides a nice buffer zone in the area beyond which guests can have a drink and chat with you while you finish cooking dinner.
6. Work with multiple sinks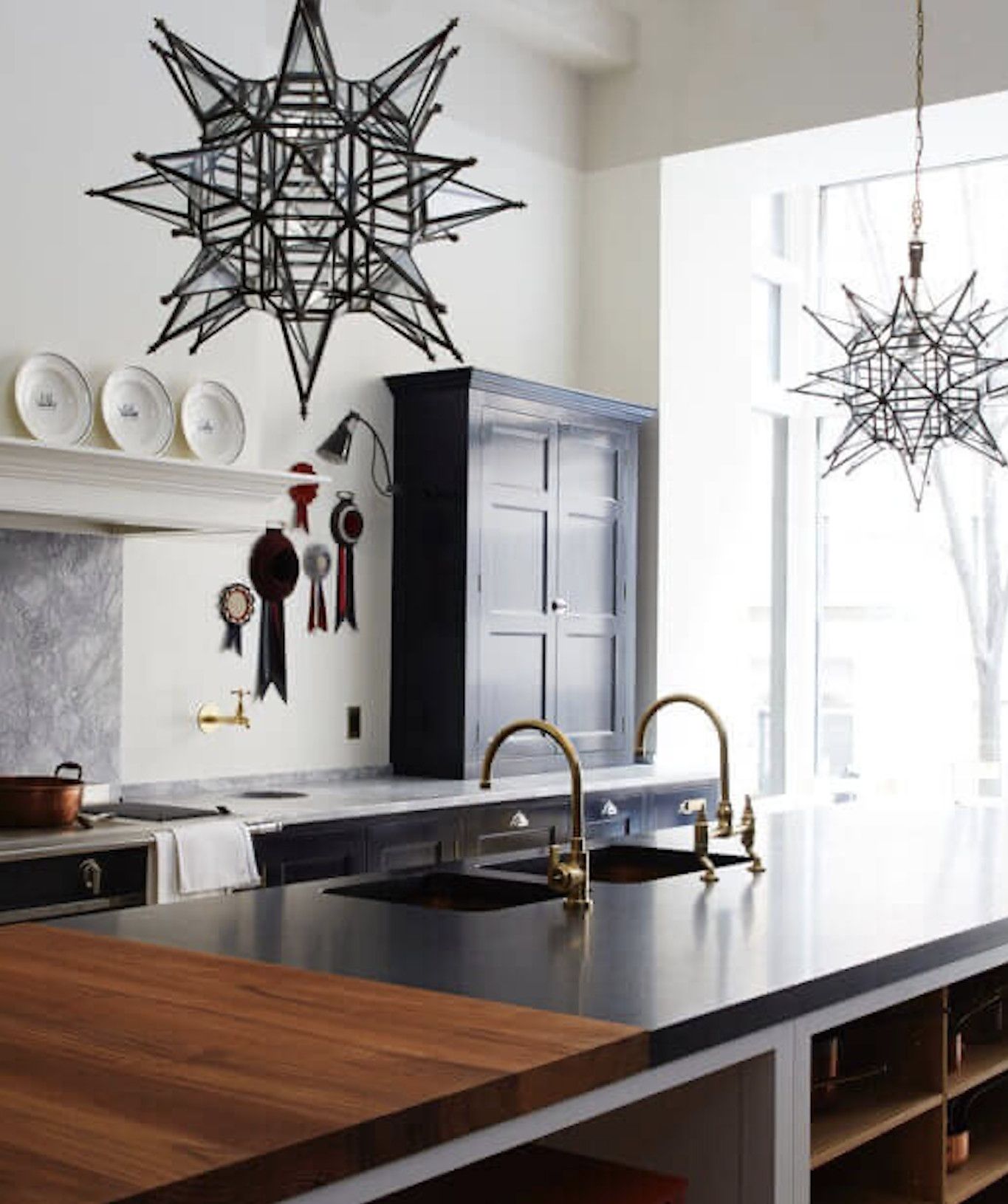 If your kitchen is large enough and you are an avid cook, explore double kitchen sink ideas.
"While popular for its luxurious aesthetic, one of the main benefits of a dual design is the space to separate items, whether it's clean and dirty dishes, heavy and fragile items, or prep of food," said Ben Burbidge, Managing Director of Kitchen Makers. . "However, think about the design of the cabinets under your sink at an early stage because the deep dimensions must be taken into account in your plan."
7. Create effective work "zones"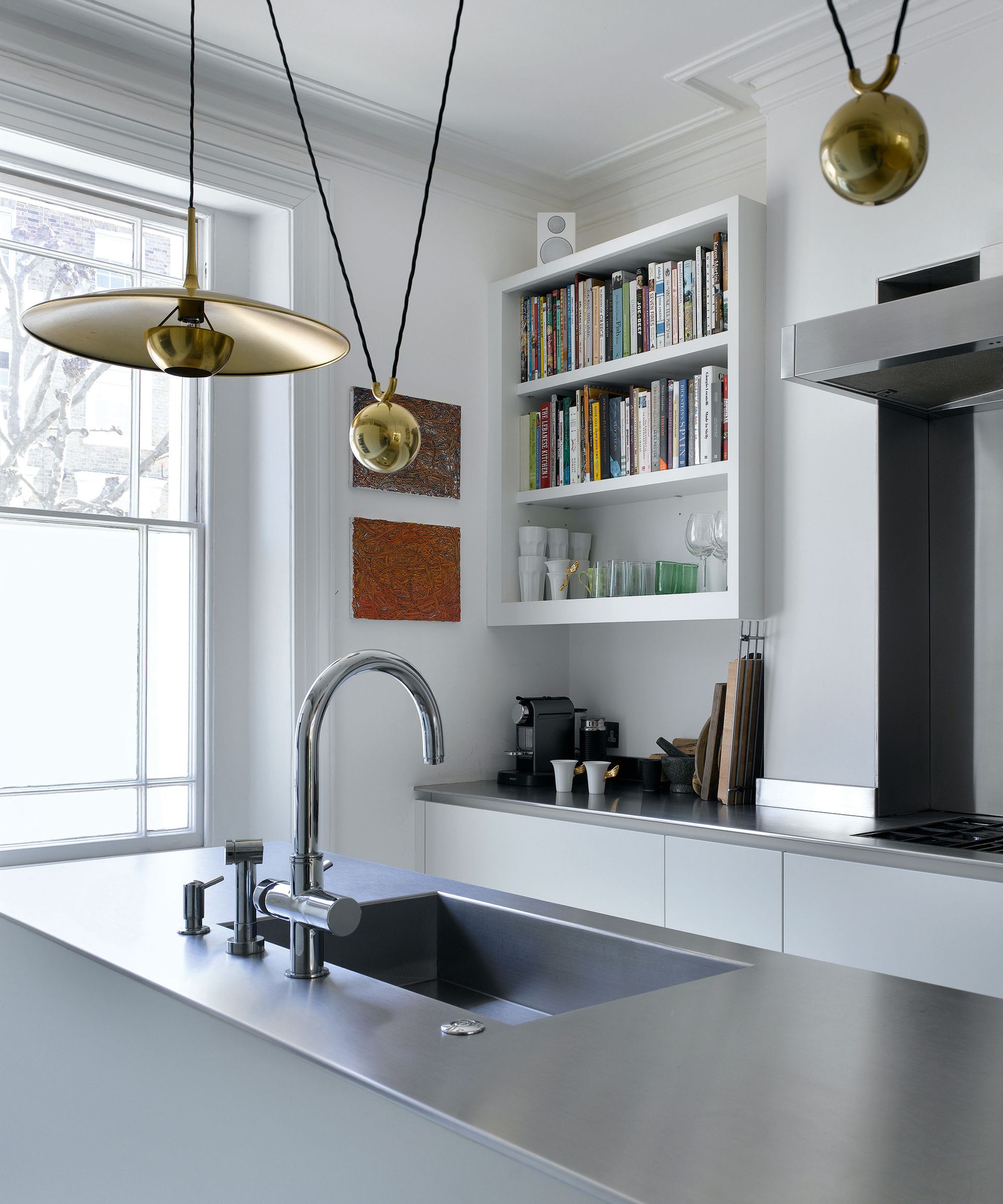 If your layout includes a kitchen island, it's worth considering adding a kitchen sink or cooktop to create an efficient workspace. A well-equipped kitchen sink with space on either side for drainage is helpful. "Get the biggest sink possible," advises chef and food writer Judi Rose, Franke's brand ambassador. (opens in a new tab).
"The main thing to keep in mind during the layout planning process is practicality," says Harvey Jones Deputy Regional Manager (opens in a new tab), Sally Hinks. "Think carefully about which parts of the kitchen you are going to use the most from a cooking perspective and how easily you can move between them. Use the kitchen triangle method as a guide and focus on the refrigerator, sink, and stove as the central elements when mapping your space.
Where should the sink be in the kitchen island?
The position of the sink in kitchen islands is usually offset to one side; indeed, island sinks are often smaller and are simply used to wash food before preparing it or to wash hands before or after touching food. It is unusual, and not recommended, to put a kitchen sink used for washing dishes in an island; indeed, your island, the most visible part of your kitchen, will then become the focus of dirty dishes and pots. Better to place your sink in the cabinets at the perimeter of your kitchen and leave space on your island to prep and eat on your own, or perhaps add a low profile hob for cooking.
Should a kitchen sink be under the window?
There are no hard and fast rules that say a kitchen sink should or shouldn't be under a window; If a breakfast bar is part of your kitchen remodeling plans, you might prefer to place it under a window that offers a nice view so you can enjoy it while you eat. That aside, though, placing a kitchen sink under a window gives you a view to ponder while you're doing the dishes, which is always a bonus.