The power of lighting is unmatched, especially when your fixtures are in harmony with each other. But do the kitchen and dining room fixtures have to match? There are definitely benefits to presenting a seamless transition between your spaces – but how important is that flow?
When it comes to planning kitchen lighting ideas, you can take a step back to observe how the fixtures you have chosen appear against your larger scheme. And as an extension of your kitchen (both in terms of its position and its uses), your dining room is a natural starting point. However, despite its closeness and similarities, your kitchen and dining room light fixtures may not need to be identical.
Whether you're working with an open kitchen and dining space or dining in an adjoining room, these expert lighting ideas for the dining room will help you instantly curate a designer flow.
Should the kitchen and dining room fixtures match?
Ultimately, the answer to whether kitchen and dining room lighting should match is that it comes down to personal preference. However, the designers suggest that the best bet is for lights that look coordinated, even if they don't completely match.
"Lighting a dining room requires different types of lighting than a kitchen, so it's unlikely you'll be able to completely match everything," says Marketa Rypacek, general manager of Industville. (opens in a new tab). "However, you can always use fixtures of the same material and even those from the same collection to give a uniform look."
For example, if you've incorporated pendant lights into your kitchen island lighting ideas, you might want to complement your choice with a pendant light above your dining room table. This look is especially easy if you buy your fixtures from one supplier as they often feature the same type of fixture but have different shades.
"This could be another way to coordinate your look while adding interest and zoning both spaces," Marketa adds.
Similarly, Julian Page, Head of Design at BHS (opens in a new tab), suggests that using different light fixtures for the kitchen and dining room is acceptable (and sometimes necessary). However, when mixing lights, it is important to always consider scale and ensure that the sizing is balanced in the room.
"If you're using a big statement above the island or dining table, consider more streamlined pieces for the rest of the space," he says. It is also necessary to keep your kitchen and dining room fixtures next to the light fixtures and to make sure you have correctly judged how far above a table a light should be hung.
"Mixing different textures and styles can create dimension, warmth and depth," says Julian. "Whether you choose different finishes or styles, find something that will tie each of the fittings together to create a cohesive look."
Can you mix lighting styles in the kitchen?
"You can absolutely mix lighting styles in a kitchen; I would recommend it," says Marketa Rypacek, General Manager of Industville. "A kitchen requires a whole range of different lighting styles to allow for correct lighting for the variety of different tasks that take place in a modern kitchen."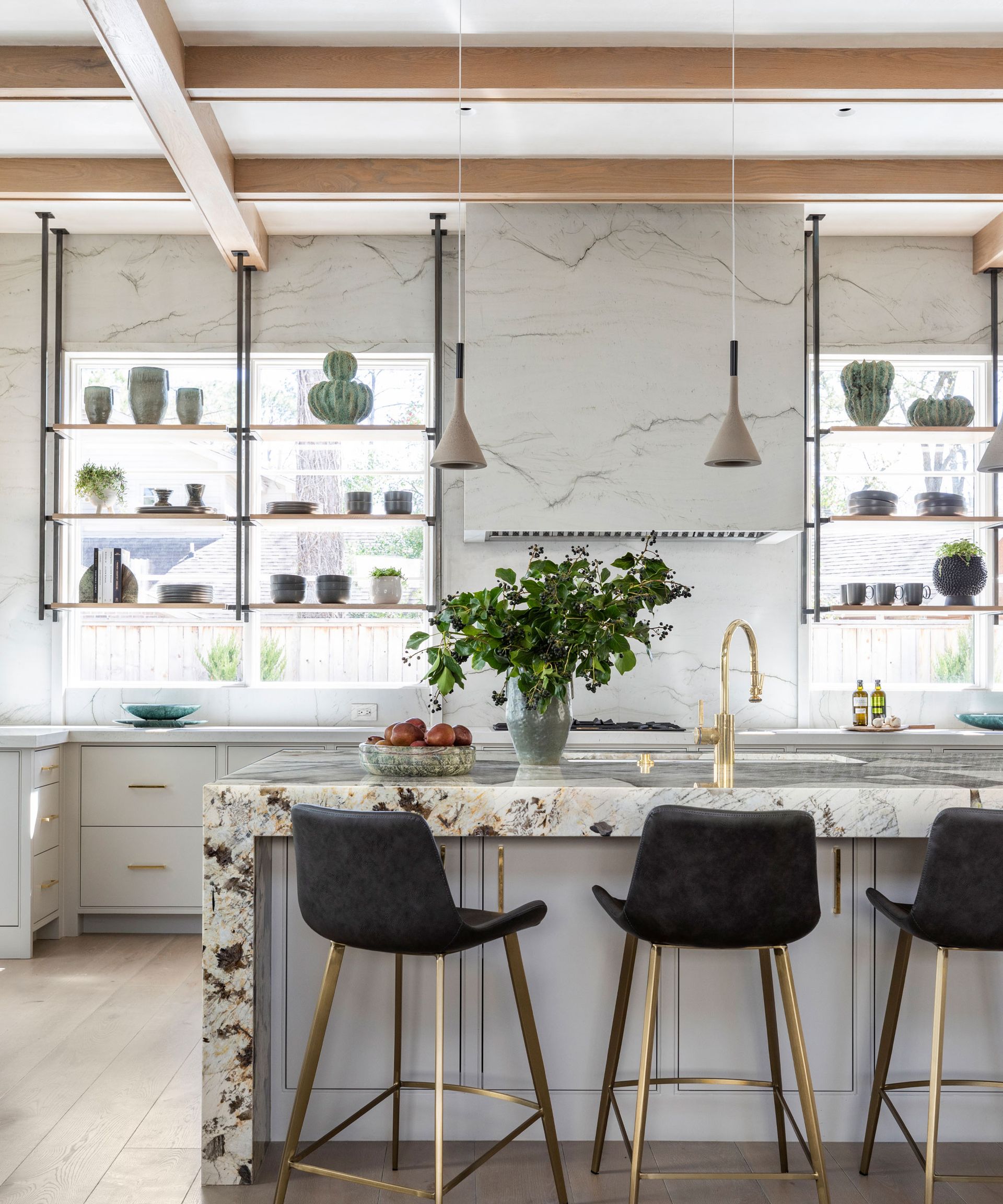 If you're wondering how to choose kitchen lighting professionally, Marketa recommends starting by looking at the areas of your kitchen and thinking about the activities that will take place in each location.
For example, "some spaces, such as food preparation areas, the kitchen sink, and above the cooktop, will require task lighting, while other quieter corners may require task lighting. mood and emphasis," she says.
Alternatively, Lee Lovett, Founder of The Soho Lighting Company (opens in a new tab)recommends mixing different metal tones to go "beyond your interiors".
"To successfully blend metals in a kitchen, select one dominant finish and complement or accent with up to two others. Where chrome is the most popular metallic finish in a kitchen, it is perfectly acceptable to mix it with brass, as long as it is present throughout the space," adds the expert.
It seems there's a reason this mixed metal look is at the top of kitchen lighting trends, and we expect them to continue to dominate for the foreseeable future.